The Revolution will be Digitized With April being Financial Literacy Month, Award-Winning Actor, Best-Selling Author and Former US Presidential appointee, Hill Harper and his business partner, Najah Roberts launched The Black Wall Street (TBWS), DigitalWallet. The DigitalWallet is the first major step in closing the racial wealth gap in the United States. As the first Black-owned digital wallet and cryptocurrency exchange platform in the United States, Harper and Roberts is positioned to build the world's largest investment and financial literacy curriculum and toolkit for Black communities across the diaspora.
In closing out Financial Literacy Month, The Black Wall Street will embark on a monumental, 33-market financial literacy campaign and charitable tour beginning in Los Angeles, California and culminating on Greenwood Avenue in Tulsa, Oklahoma, the evening of May 31st, 2021 through June 1st during the very hours, 100 years ago when the mass destruction took place of what is still considered, the most successful Black economic community in the history of the United States.
Importantly, the tour will visit thirty-three of the most disenfranchised communities in the US introducing financial literacy and cryptocurrency to individuals in these communities and gifting millions of Satoshis (fractile shares of Bitcoin). The Black Wall Street Digital Financial Revolution National Charitable Tour is the first of its kind in launching a digital platform, focusing on Bitcoin education and adoption within Black and Brown Communities. Wherein, the charitable tour informational pop-up rallies will take place outside stopping in the selected 33-martkets kicking-off here in Los Angeles. The Black Wall Street Digital Financial Revolution National Chartable Tour will be led by Harper's partner, Roberts as Hill is still in production in Vancouver for ABC'S hit drama series, The Good Doctor…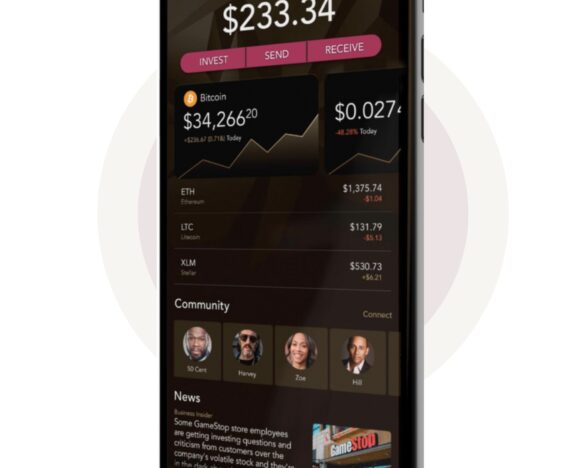 Friday, April 30th/5PM-7PM
Leimert Park
3333 W. 43rd Pl.
Red Carpet, 4:30P-5:30P/Media check-in 4P
RSVP to Makensy: [email protected]
@CryptoKidsCamp performance by @NavonneLove
DJ, DJ Q Nice
FREE and open to the public. Mask up.
Crypto Kids Camp:
https://www.cryptokidscamp.org/
Bring your rally signs like #EQUALPAY #KILLPADDAYLOANS and any other creative signs you can think of for economic justice for all.
Hill Harper
"Our technology seeks to replicate the brick-and-mortar Black Wall Street, as a digital ecosystem that will galvanize the financially excluded and directly stimulate the economic growth and spending in marginalized communities everywhere."
"To address an ecosystem of problems, a tech-based ecosystem of solutions is required. We are – and always have been – our own empowerment ecosystem. We're now creating the digitized and scalable version of the original Black Wall Street. This has always been for us and by us – it's time to reclaim that space. Just like anything it starts with education. Our measurement of impact is improved financial literacy in Black communities." – Najah Roberts
The Black Wall Street's National Centennial Charitable Tour
May 31, 2021, marks the centennial of The Tulsa race-riot & massacre. The destruction took place from sun-fall on May 31st through June 1st, 1921. It has been called the single worst act of racial violence in American history.
The Black Wall Street's campaign, Crypto-curriculum, and DigitalWallet will be led by Harper in partnership with Najah Roberts, a world-leading cryptocurrency exchange expert. Together they will initiate "The Digital Financial Revolution" National Charitable Bus Tour, an informational and empowerment-first initiative intended to honor the victims of the Tulsa Massacre by reclaiming and transforming this namesake into a momentous strive for racial and economic equality. The tour will host virtual and COVID-safe events outside in 33 of the most densely populated and economically challenged communities across the US with the goal to educate about The Black Wall Street App & DigitalWallet – A movement to put their futures back into their own hands. Appointed by the Greenwood Chamber of Commerce as the Honorary National Co-Chair of The Redevelopment of Black Wall Street, Hill Harper's vision for The Black Wall Street DigitalWallet is deeply rooted in his commitment to addressing the digital divide and economically uplifting underserved communities by providing them with the tools and playbook to thrive – in the palms of their hands.
The Black Wall Street – Black Cash Matters™
"With the Black Wall Street technology, we seek to make obsolete payday lenders and other financial predators plaguing our communities, while simultaneously creating cross-generational wealth transfer, for people who have historically been taught to work for our wages instead of making our wages work for us…because Black Cash Matters."  – Hill Harper
The Black Wall Street is home to The Black Wall Street DigitalWallet, the first of its kind, connecting "top-of-the-funnel" financial services with the populations these instruments were designed to service — everyone from the disadvantaged "unbanked and under banked" to the savvy cost-efficient consumer.
Unlike traditional financial institutions, The Black Wall Street's sole purpose is to provide Black and Brown communities the opportunity to be involved in the transfer of wealth with cryptocurrency and decentralized finance.
About Najah Roberts | @NajahRoberts
Najah Roberts is a pioneering tech entrepreneur, cryptocurrency, Bitcoin, NFT expert, and community activist. Najah is the Founder & CEO of Crypto Blockchain Plug, the first Black-owned cryptocurrency exchange, and only one of three brick and mortar digital cryptocurrency businesses in the United States.
Najah holds a B.S. in Criminal Justice Administration from Bethune-Cookman University and an MBA from Rochville University. She lectures and educates on economic empowerment, financial literacy, and cryptocurrency across the globe, especially for communities of color. Najah founded Family Knots Express, a nonprofit in 2001 that advocates for incarcerated women with children. Najah is a native of Los Angeles, CA.
The Black Wall Street Holdings, Inc.
Twitter/Instagram/Facebook: @BlackCashMatters