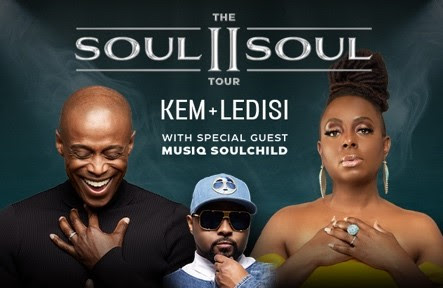 Three-time GRAMMY®-nominated R&B superstar KEM, one of the most distinctive and vital voices in music today, commemorates his 20th anniversary of being signed to the Motown label his first live album, ANNIVERSARY – THE LIVE ALBUM, released today by Motown Records, and his first book,, Share My Life: A Journey of Love, Faith, and Redemption, published by Simon and Schuster earlier this week.
He kicked off a monthlong celebration with an interview and performance on ABC's "Good Morning America," and an appearance on the Emmy Award®-winning daytime talk show "Tamron Hall Show." HERE The SOUL II SOUL TOUR, KEM's co-headlining national arena run with Ledisi, featuring special guest Musiq Soulchild, continues tonight with a show at Cincinnati's Heritage Bank Center. The three R&B powerhouses originally toured together during KEM's 2011 INTIMACY TOUR. Tickets on sale now at musicbykem.com.
KEM recorded ANNIVERSARY – THE LIVE ALBUM in Fall 2022 at The Aretha Franklin Amphitheatre in his hometown of Detroit. The album showcases the musical mastery and captivating vocals of one of the world's most treasured singer-songwriters with powerful renditions of songs from throughout KEM's career, including his No. 1 hits, "Love Calls," "I Can't Stop Loving You," "Why Would You Stay," "Nobody," "Lie To Me" and "Stuck On You." Get the album here: Anniversary – The Live Album.
"Celebrating the 20th Anniversary of my signing to the Motown label is exceptionally significant for me. As a young man creating music, only in my wildest dreams could I envision a life that could encapsulate the magnitude of a moment like this. My heart is filled with gratitude to my Motown family for having faith in my debut album, KEMISTRY, and continuing to support my musical journey of love. Having the last two decades of my career culminate in a live album recorded in Detroit, in the city and with the people who first heard "Love Calls" and helped put me on the map, is epic." – KEM
Known for his smooth and impeccable style, KEM's journey to the stage is nothing short of inspiring. He shares his life with fans in his revealing and inspiring memoir, Share My Life: A Journey of Love, Faith, and Redemption. Praised by Kirkus Reviews as a "forthright chronicle of hard-won success," Share My Life – also the title of one of his #1 hit singles – traces KEM's transformative journey from childhood to homelessness to internationally renowned singer-songwriter.
As a young man, KEM's mother was never without a beer in her hand, and his relationship with his father was oddly tense. Emotionally starved, he internalized harmful feelings, which eventually led to him spiraling and turning to alcohol and drug use in search of relief. While bouncing around to several homeless shelters and drug rehab centers, KEM perfected the songs that revitalized his spirit and would later appear on his first album, KEMISTRY, the cornerstone of a body of work that has touched millions, topped the music charts, and earned him a spot among the legendary icons etched atop Motown's marquee.
For all his life, KEM has been driven by the emotions involved in bringing his music to life. Today, the internationally renowned R&B singer-songwriter has to his credit: one Platinum-selling album (KEM: ALBUM II); two Gold-selling albums (KEMISTRY; INTIMACY); four GRAMMY® nominations; and eight #1 hit singles ("Love Calls," "I Can't Stop Loving You," "Why Would You Stay," "It's You," "Nobody," "Lie To Me," "Live Out Your Love," ft. Toni Braxton and "Stuck On You"), along with several sold-out national tours and international shows.
For more information, visit www.musicbykem.com and follow KEM on social media:
Track Listing – Anniversary The Live Album
1 Intro
2 Love Calls
3 My Favorite Thing
4You're On My Mind
5 Nobody
6 Heaven
7 Stuck On You
8 Share My Life
9 Why Would You Stay
10 Lie to Me
11 I Can't Stop Lovin' You
12 Find Your Way (Back In My Life)
KEM + Ledisi – The Soul II Soul Tour
With Special Guest Musiq Soulchild
4/7      Cincinnati, OH           Heritage Bank Center
4/8      Grand Rapids, MI      Van Andel Arena
4/14    Chicago, IL                Credit Union 1 Arena
4/15    Milwaukee, WI          UW-Milwaukee Panther Arena
4/21    Orlando, FL               Addition Financial Arena
4/22    Charlotte, NC             Bojangles Coliseum
5/5      Washington, DC        DAR Constitution Hall
5/6      Washington, DC        DAR Constitution Hall
5/12    Baton Rouge, LA       Raising Canes River Center Arena
5/13    Norfolk, VA               Scope Arena