Checking off titles ranging from global nonprofit owner to best-selling published author at just age 11, Nicholas Buamah recently channeled his knack and superpowers for writing, but in a much different way. He's adding "Nick's House" TV show creator, writer, and executive producer to his broad array of booming talents.
Nicholas may be the mastermind behind his new show "Nick's House," but he's certainly not alone in bringing the sitcom to life. Award-winning TV veterans, like LaMont Ferrell and Reshaun Jones, are also helping him turn his dreams into a reality.
Directed and co-written by award-winning Hollywood producer Ferrel, "Nick's House" is centered around Nicholas and his two friends, Janae Madison, and Cavanaugh Bell as they run a successful consulting firm assisting other young moguls out of Nicholas's parents' home. In production and set to debut in 2022, the show features well-known comedian, Boogie B. Montrell, as Buamah's immature uncle who moves into the family home to help care for Nicholas while his parents are away on business. Nicholas' adventurous and entrepreneurial-minded friends, who live nearby, visit frequently, adding to the fun chaos.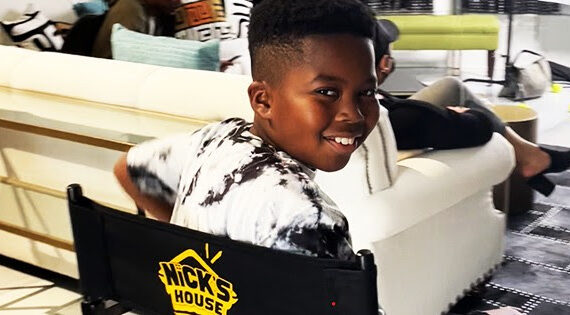 Ferrel – who has been recognized for his production work for renowned shows such as "Girlfriend's," "Moesha," "The Office" and "Tyler Perry's House of Payne" – will work alongside Buamah and the show's associate producer Toiya Tillman, co-writer Reshaun Jones, and producer Gia Compton.
Nicholas and his powerhouse team are in the process of pitching the show to mainstream TV networks.
He has garnered many accolades to be proud of, one being honored by EGOT alumni, Whoopi Goldberg for Black History Month. He has also obtained global media attention for his nonprofit business savvy and philanthropic work at such a young age.
From donating school supplies to children through his nonprofit Books Without Borders Inc. to rendering health insurance services to over 1,500 Ghanaian children through the NHIS, Buamah has ignited an international presence and footprint in Ghana. Nicholas was recently named as ambassador to the Opemsuo Kid Radio Show for the Manhyia Palace Media in Kumasi, Ghana.
In case you missed it, Nicholas broke news headlines amid his memorable appearance on "The Steve Harvey Show," where the show's host purchased 555 books – for Nicholas' nonprofit – to send to Ghana. He is the author of three children's books, "Kayla & Kyle: The Walking Dictionaries" series and the holiday-themed book, "Is Santa Really Real?"
All three books are published and cataloged in the Library of Congress.