In a groundbreaking development, Jefferson Sports Enterprise (JSE), a black-owned firm based in California, has secured management deals with three promising athletes from Mississippi Valley State University (MVSU). The company, founded by Marc Jefferson, a graduate of MVSU and former US Air Force Officer, aims to guide athletes in navigating the opportunities presented by the Name, Image, and Likeness (NIL) era.
The trio of athletes joining the JSE family are Jamari Jones, Cameron Gardner, and Shelby Carson, all hailing from Mississippi Valley State University. Jones, a talented quarterback from Fannin, has already garnered attention, being named the HBCU Sports Preseason SWAC Newcomer of the Year. With an impressive track record that includes being a JUCO All American and a two-time Academic All American, Jones's potential as an endorser is undeniable.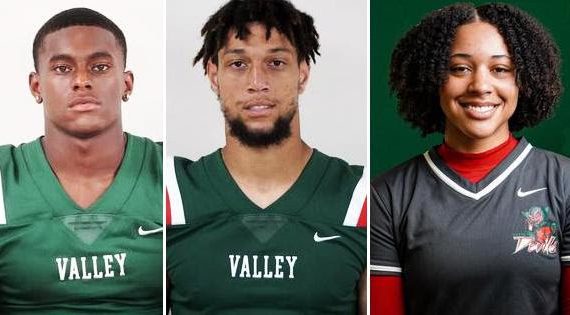 Gardner, a skilled wide receiver turned tight end, is ready to showcase his offensive prowess in the upcoming season. Raised in Starkville, Gardner has a strong background in football, having played for the Starkville Raiders in his youth and winning the 6A State Championship as a Yellowjacket at Starkville High School. His transition to the tight end position brings excitement and anticipation for his performance.
On the women's side, Shelby Carson, a rising senior at MVSU, has made a name for herself as a talented infielder. Hailing from Raymond, Carson has been recognized as an All-SWAC second team member and currently ranks among the top players in the NCAA for triples per game. Her endorsement potential is expected to grow as her skills continue to flourish.
Marc Jefferson, the CEO of JSE, emphasized the importance of promoting each athlete's individuality and finding endorsement opportunities that align with their personality and style of play. With a family-oriented culture, JSE aims to support its athletes as they balance their academics, sports, and endorsement deals.
With licensing in multiple states, including California, Mississippi, North Carolina, Arkansas, and Alabama, Jefferson Sports Enterprise is poised to make a significant impact in the world of athlete management. To learn more about JSE and its services, visit their official website at JSE-Champions.com.
Overall, the partnership between JSE and these talented HBCU athletes represents a significant step forward in empowering black athletes and providing them with the support they need to thrive in the NIL era.